The family roots run deep on the Mayer Ranch near Hooker in the Oklahoma panhandle. Tyler and Naomi represent the fifth generation to operate a cow-calf operation on the land Tyler's great, great grandfather settled prior to statehood in 1883.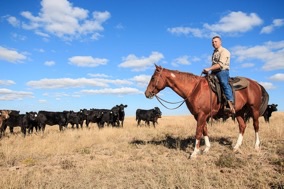 The family's agricultural heritage is a source of pride, and has instilled a sense of responsibility in Tyler.
"I wouldn't be able to do what I do without these people who came before me. I always try to remember that." He said. "I'm just a steward, a caretaker of this. It's not mine. I'm just taking care of it so that the next generation will be able to enjoy the life I have enjoyed if that's what they choose."
Naomi's path to production agriculture came on a different route. Her father has spent his life working in processing plants in the Texas and Oklahoma panhandles.
"It gives a great perspective to be able to see an animal go through the entire cycle from birth to processing." Naomi said.
The Mayers didn't always envision themselves continuing their family's ranching heritage, but sometimes life takes unexpected turns.
"I was a professional firefighter for four years and was taking a paramedic class. I had every intention of making that my career until one morning I woke up and decided I wanted to try out the family business. Within about three weeks, we were back on the ranch." He said.
"I always thought we would ranch after we retired, but life changes. I fought pretty hard for a bit, but I gave in. And I'm so glad I did." Naomi added.
The couple entered the ranching business at a time when many cattle producers were selling out due to the severe drought.
Tyler said, "The drought was terrible for a lot of people out here. But for us personally, it provided a really good opportunity."
"When you go through a 24 month period with less than five inches of rain, it doesn't seem like an opportunity, but it was." He said. "We found a really good deal in Nebraska to take a bunch of cows, so we bought a lot in 2011 when everyone else was selling. That's really how we built our cow herd."
A key to success in any agricultural operation is learning from your challenges.
"I was constantly thinking: What am I going to say that I learned from the drought?" Tyler questioned. "I think it's that the drought is never over. It's always on the horizon."
For the Mayers, and other cattle producers across the state, keeping their livestock healthy and in peak condition is the highest priority.
"We recently had a calf that was very sick, and we were doing everything we could do to help her get better. If we lose that calf, it's not good for us financially, but it also hurts us personally. We genuinely care about our animals." Naomi said.
Tyler credits his intimate knowledge of the animals and what to look for to his experience growing up on the ranch and working alongside his father and grandfather.
"It's so important to educate yourself on what a cow is supposed to look like. What should her body condition be during each trimester of pregnancy? What are her nutritional requirements at every phase? If you've grown up doing it, it's kind of second nature." He said.
Naomi added, "I know they are all black, but we know our animals and their personalities and it's pretty easy to spot when they aren't feeling well."
"We are out looking for sick animals every day. When we do identify one, the object is to get that animal the best care we can, causing the least amount of stress possible." Tyler stated.
He recalled, "My grandad used to tell me, stay home and take care of your cows and they will take care of you. And it's true."
The Mayers pride themselves on providing high-quality beef for their own family and consumers across the country.
"We recently fed a heifer out for our own beef. Our son would feed her every day and saw the whole process." Naomi said. "We knew we were going to feed our own family with her and we treated her and fed her just the same as we would any other calf we raise. She didn't get sick, so we didn't have to use antibiotics, but if she would have, we would have treated her and waited the necessary withdrawal time; and then we would have eaten her just the same."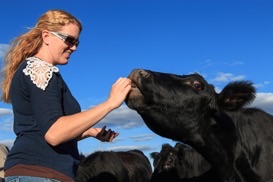 She added, "Consumers who have grown up in really big cities – when they feel so passionate about our use of antibiotics, a lot of times it's because they haven't experienced it. I wish there was more of a way for them to see production agriculture first hand."
When asked about the opportunities a ranching lifestyle provides for their children, Naomi commented, "I hope they learn to be good, compassionate people toward other people and toward animals."
"I don't do this to make money. If your sole desire is to make money, there are a lot easier ways to do it." Tyler concluded. "It's more about a lifestyle – I get up and I'm at work straight away. I get to see my kids, drop them off at school and pick them up. You can't beat that. It's as good as it gets."