Paving the way to the future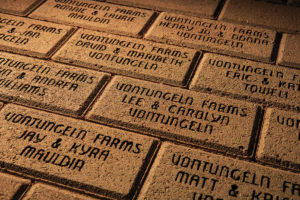 Help Oklahoma Farm Bureau preserve the memory of the trailblazers and pioneers from our organization's history. The Oklahoma Farm Bureau Foundation for Agriculture is offering brick pavers to memorialize individuals or groups in OKFB's 75th Anniversary Commemorative Courtyard.
With your donation of $100, you can customize the text on a brick paver to commemorate an individual or group that has made a mark on Oklahoma agriculture or Farm Bureau. The brick will be installed into the courtyard and leave a lasting memory.
Each brick can be personalized with up to 3 lines of text with 18 characters on each line. The pavers measure 4 inches by 8 inches.
Download our PDF Brick Paver order form, compete it, and return with your $100 per brick donation to:
Oklahoma Farm Bureau Foundation for Agriculture
2501 N. Stiles Ave
Oklahoma City, OK 73105