The rural Oklahoma landscape is characterized by family farms with rich history and tradition. The Blubaugh Angus Ranch is no different. Their storied past is a result of three families making the Oklahoma Land Run and settling near Tonkawa in 1893. Today, Scott and Lisa Blubaugh's son Zane represents the fifth generation of the Blubaugh family, and the sixth generation of the Scott and Read families who laid the foundation for an agriculture legacy that is over 120 years in the making.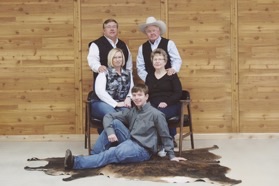 Scott, Lisa and Zane operate the farm and ranch in partnership with Scott's parents, Cletus and Pat; but the land is owned along with nine aunts, uncles and cousins. Scott and Lisa's oldest son Zach, and his wife Andrea, of Perry are actively involved with the auction and other events on the farm. It truly is a family business. The Blubaugh's primary focus has been raising registered Angus cattle that are sold each year as breeding stock for other registered and commercial herds and into the beef market. In addition to cattle, the family farms wheat, alfalfa, milo and soybeans for the commercial market as well as hay for their livestock, wheat, rye and triticale for grazing.
"Being a diversified operation gives us a natural hedge. If one crop fails, maybe another crop will do well. If another crop fails, maybe we'll do well with the cattle. That has been a big part of helping us to stay in business for six generations." Scott said.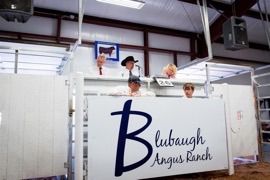 The original Scott homestead is now home to the new Blubaugh Angus Ranch auction barn, where ranchers gather each year in April to purchase replacement heifers and bulls with high-level genetics for their herds. It also provides a meeting place for the Blubaughs to host agricultural tourism groups from across the state and around the world.
Scott noted, "We welcome people to come all the time to learn more about agriculture and life on the ranch. We've had tourbusses, Ag in the Classroom teachers, Brazilian farmers and German farmers, just to name a few."
"As much as they learn from us, we always learn something from them as well." Lisa added.
Like most farming and ranching families, the opportunity to leave a legacy is the most important priority for the Blubaughs.
"Our ultimate goal is to have this to pass on to the next generation so that 50 years from now, we don't have to worry about where our food will come from." Lisa explained.
And without being great stewards of the land, and keeping animal welfare as the highest priority, there would not be anything to leave to the next generation. The Blubaughs pride themselves on looking after the health and safety of their animals.
"We work with three local vets, two embryologists and nutritionists to ensure our herd stays in the best condition." Scott said. "Health is everything in our business."
Lisa added, "Nutrition and health go hand in hand. If they have good nutrition, they will stay healthier."
"We do as much as humanly possible to prevent illness. We use antibiotics as a last resort to keep our herd healthy." Scott said.
It often seems like few deals are executed these days without extensive contracts and legal protections, but farmers and ranchers often do business the old-fashioned way.
Scott recalled, "We do an awful lot of business on a handshake still. Your word is your bond, and your reputation is everything. That hasn't ever changed very much in agriculture, and I hope it never does."
Seeing recorded progress from each generation is a unique opportunity for multi-generational family farms. And ultimately, consumers see the benefit of top quality genetics from the Blubaugh Angus Ranch.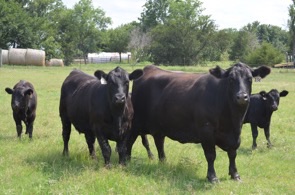 "Genetics are very important, and we've made tremendous improvements in feed efficiency, in the last 30 years." Scott said. "When I was a kid my grandpa would wean calves at 350 pounds. As a teenager, my dad was weaning calves at about 500 pounds and today we are weaning them at 700 pounds. We have doubled the amount of beef we can produce per cow in my lifetime and I have seen it firsthand."
"As the amount of land devoted to agriculture continues to shrink, it is essential that we are able to produce more with less." He added.
Scott and Lisa's youngest son Zane, who will be a freshman at Connors State College this fall, will likely have the opportunity to continue the Blubaugh agriculture legacy if he chooses to. While the hard work starts at a young age in a farming and ranching family, the benefits are endless.
Zane noted, "Work ethic is a big part of it, but I think the opportunities it provides that most people wouldn't get are the most important."
At an age where many young people may be getting their first job, Zane has already established his own cow-calf operation that will help pay for his college. And, the institutional knowledge he has gained from working alongside the previous two generations on the family farm is invaluable.
"Agriculture teaches you that life is not always rosy. You are going to have challenges to work through. And maybe that's why kids with agriculture backgrounds are generally successful." Lisa commented.
"Agriculture is really the lifeblood of Oklahoma. It is a big employer and is vital to the economy." Scott concluded. "To be successful in this business you have to be passionate about it. There is always something to work through. Some years it's drought, some years its flood, some years its pestilence, some years its price."