Oklahoma's agricultural landscape is diverse – ranging from farms and ranches covering thousands of acres to backyard gardens and everything in between. Ninety-eight percent of those are family owned and although many of them have different production methods, they are united in their desire to raise food and fiber safely and effectively for the markets they serve.
Ron Hall, of Owasso, is showing day-by-day that he can care for and improve the quality of the natural resources on his forty acre suburban farm and successfully produce food for a local market.
"Sustainable farming to me, means I can consistently make a living and my soil continues to be productive. If either my profits or my soil are depleted – my farm is not sustainable" He said.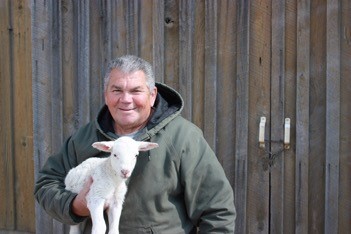 Ron's farm is a picturesque example of what can be accomplished on a small plot of land by an agriculturalist with big dreams in a relatively short amount of time.
Ron's father was born in Oklahoma but at a young age his parents moved him and eleven siblings to California to make a living picking fruit. His grandpa was able to save enough to buy eighty acres where they began their family farm near Fresno, Calif., in the San Joaquin Valley.
"I grew up in the San Francisco Bay area, but as a child my parents would take us to help on the farm one weekend each month and for a few weeks each summer. I just loved it." Ron said.
He recalled, "My dad always dreamed of moving back to Oklahoma to farm. We moved to the Grand Lake area for three years when I was a teenager before returning to California. I promised myself I would find a way to get back."
After forty years working as a pacemaker salesman, Ron retired about ten years ago and turned his focus to making his agricultural dreams a reality.
"Initially, I planned to just move out here and have a few animals and enjoy life, but then I got really passionate about it." Ron said. "I wanted to focus on improving my soil and proving I could make this small farm work."
He added, "I wanted to raise animals and farm a little bit, mainly raising forage for the animals. And, I wanted to do it profitably. No one believed I could do that on only forty acres."
Ron began to study ways to conserve the natural resources on his land, namely the soil and the water. Both are essential to growing crops and raising livestock and he views protecting them as part of his ethical obligation as a farmer.
"In the last twenty years there has been an increasing interest in the animals under the soil – the microbiology and what we as farmers do to nurture those organisms." He said.
Part of that education has come through a great friendship and partnership with Bruce Peverley, Tulsa County Agriculture Extension Educator.
Bruce recalled, "When Ron came here, the soil was very mined out. He was looking for ways to improve the soil and came to me for help, so we got together and made a plan. Now he is able to grow a wide variety of forage crops that currently provide adequate grazing for 100 ewes and could potentially sustain as many as 200 ewes."
Ron added, "I knew if I could find a way to improve the microbiology of my soil, my productivity would increase and my input costs would go down. If I care for the soil properly, I am able to get most of the nutrients my plants need directly from the soil. I go to Bruce for advice on what I need to add to maximize its potential."
"In addition, when microbes are active in my soil, the water that comes through the soil and flows off my land is clean." Ron said.
Many times, finding success as a small farmer means finding unique markets to serve. Ron has done just that.
"I've developed a market selling lambs to international students at Tulsa University. They are able to come to the farm, harvest the lamb and take the meat with them." He said. "I can access local markets for eggs, milk and meat on a small scale and benefit my community."
In the rapidly growing suburb of Tulsa, Ron has taken a forty acre parcel of land that is not suitable for building, improved the quality of its natural resources, and started an agricultural operation that has great benefits for his community.
Bruce commented, "The best of both worlds for agriculture is combining the benefits of large-scale farming and smaller, intimate operations. We are blending the best of the old and the new on Ron's farm."
In return for some of his services, Bruce has the opportunity to use Ron's farm as a teaching tool for others in Tulsa County who are interested in pursuing agriculture.
"Not only does it provide a great learning environment, Ron's farm also gives people in this area hope that they can succeed on a small farm." Bruce said.
With fewer than two percent of the population now involved in production agriculture, that encouragement is critical to bringing new farmers and ranchers into the market.
Bruce said, "Those of us that are genetically coded to want to raise livestock or grow crops find an extreme amount of satisfaction when we are able to do it. It may not be the most financially rewarding career we could choose, but the quality of life benefits outweigh the financial rewards."
Ron concluded, "I kind of feel like I'm making a contribution to the world when I'm providing food for someone. The way I see it, I'm not just raising an animal to sell, I am providing food for someone."