Story written by Amber McGee, Oklahoma State University Agricultural Communications Senior
On any given day, one can walk into First Bank & Trust Co. of Perry, and see Mason Bolay sitting in his corner office, helping customers with advice about their loans, the best government programs for new farmers or questions they might have regarding a line of credit.
"I have enjoyed working for a small-town bank," Mason said. "It is nice to know the community trusts us, and we are able to help different generations with their banking needs."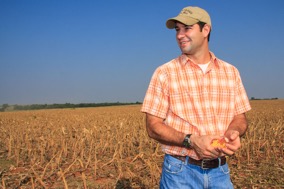 After the bank closes each night, Bolay returns home to his wife, Elise, and son, Everett, changes clothes and goes to check cattle, crops and machinery.
"When 5 o'clock comes, you usually see him on the farm," said Bob Bolay, Mason's grandpa. "Tonight, we had 125 calves to run through the chutes, and he was there before I was."
The Bolay family has farmed since the land run of 1893 when Mason's great-great-grandfather staked a claim on a quarter section of land northwest of Orlando. Mason now works to continue that legacy and help grow his family's farm, he said.
"It is a way of life," Bob said. "It is something that you have to love. There have been hard times and good times, too. The years that you don't raise a crop you think 'I'll go do something else,' but because of the grit, we have survived all of those years."
One hundred twenty-two years later, the Bolays still farm and trek on as they work through droughts, pests and low wheat prices.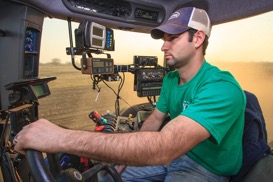 I always enjoyed helping on the farm when I was younger," Mason said. "When I was 7 or 8, I began hauling hay with my dad, and by the age of 10, I was driving the tractor during harvest."
Mason graduated from Oklahoma State University with a degree in ag business and said he questioned what the next step in his life was.
"I always wanted to farm, Mason said. "The rule has always been that you have to work another job. That is the way it was for my dad, and that is the way it will always be."
However, grandpa Bob was always willing to help with his farming career, Mason said.
"When Mason got out of college, he came to me, and I asked him what he wanted to do," Bob said. "Mason said 'Grandpa, I want to farm.' I told him he had to find a job, and then we would help him get a farm started, just like I told his father and my father told me."
Mason started his career as an agricultural education teacher at Thomas-Fay-Custer High school and spent two years working with the students and their livestock projects.
After two years of teaching, Mason decided to move home and began working for First Bank & Trust Co.
Through his career changes and his education, Mason said he had two things he always enjoyed coming home to: his family and farm in Perry.
Elise said she also enjoys helping on the farm when she has time.
"When we first started dating, he told me farming was a hobby," Elise said. "I told him farming was not a hobby and that a lot of work went into it."
Mason has faced some hard times as a farmer, he said.
"The weather has been a struggle." Bolay said. "It is the one thing we cannot control, so we have learned to manage it the best that we can."
Bob said he has watched Mason through the ups and downs of farming and in life.
"It has made him a better person," Bob said. "He took the hard times and used it to learn a lesson. Whether it was teaching, banking or farming, he let the struggles make him better."
Through hard times and failures the Bolay's have worked hard to build a farming legacy that will continue in their family. Through this hard work and dedication they have been able to build a production that will last through the years to come.