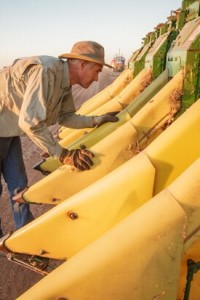 Matt and Kellie Muller are doing their part to dispel the myth that agricultural producers want to keep their operations hidden from the public eye. They proudly invite friends, neighbors and strangers alike to take a look at their diversified farm and educate them on food and fiber production in the community of Martha, just outside Altus. Their passion for agricultural education has led them to host free tours on their farm for students ranging from Pre-K to AP Biology.
"We want people to see where their food is produced – and it isn't produced in the grocery store." Kellie said.
"We are different than any other business or company because we actually live on site. We are surrounded on all sides by fields we farm, or our neighbors farm." Matt said. "This is not just a job. We have ties to the land because we live on it. We want to pass it on to the next generation and generations after that."
Oklahoma's farmers and ranchers work hard to provide consumers with an abundance of choices. Matt and Kellie believe the technology used on traditional farms, like their own, provides them with safe, healthy and affordable options to feed and clothe themselves and their four children.
Matt said, "We don't buy organic because I'm confident in the extreme amount of testing the FDA, USDA and food companies do to make sure our food supply is safe."
"In our area we have been in a severe drought for the last four years. If we had to depend on locally grown food, we would be quite hungry. I'm very thankful that we are able to bring in produce from other places in the United States." He commented. "It is a blessing to be able to move food from a surplus area to a deficient area."
Relying on other countries to supply our food is a frightening thought. But that will be the reality if America's strong production agriculture industry is not protected. Producers must be allowed to access the latest, scientifically-proven technology to farm and ranch effectively and efficiently.
"Our other options to import food are from places like the Ukraine or Brazil. The public often perceives foreign farms as small, peasant farms using organic practices. In reality, these are often 10,000 to 20,000 acre operations that make American farms look very small; and I don't think they are using the same diligence and care that we do in producing their food." He said. "But I, as an 1,800 acre farmer, am considered an industrialist because I am not using 50 year old methods to produce. The alternative of importing food is very scary."
Matt concluded, "It's not just about the bottom line. The economics are part of it, because it is a business; but we are just as concerned with preserving the natural resources because we understand the implications if we are faced with losing them."
Listen as Matt talks with Oklahoma Farm Bureau's Director of Corporate Communications Sam Knipp about the impact of drought on production agriculture in Southwest Oklahoma here.