Farming and ranching is a full-time occupation for many Oklahomans. For others, it is so much a part of who they are and the lifestyle they desire form themselves and their families, they choose to do it in addition to a full-time, off-the-farm job.
Jeff and Sarah Weeks had limited agricultural experiences growing up, but both developed their love for it through showing livestock. Jeff's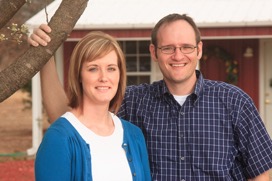 parents were hobby farmers, who both had off-the-farm jobs. Sarah's parents did not farm, but her great-grandmother had a farm with a large poultry operation in the 1950's and 1960's.
Jeff grew up in Canadian, Oklahoma, and began showing pigs in fourth grade. It stuck with him and he continued to show pigs and cattle in high school.
Sarah also began showing around fourth grade and then had an opportunity to attend Connors State College for livestock judging.
"That's where I really became immersed in it." She recalled. "I then went to OSU and when we had the opportunity to move back and purchase my great-grandmother's farm, it was kind of a no brainer."
Jeff agreed, "There was never really an option for me. It was just something I always did, and something I will always do."
Many times, capitalizing on an agricultural opportunity requires stepping out and taking a leap of faith.
"Most people obtain a job and then locate in that area. We bought the place, and then created careers around that." Jeff said. "It's not necessarily the way I would advise everyone to do it, but for us it worked. It was just that important to us."
Jeff is an Assistant Vice President and Loan Officer for Vision Bank in Meeker, while Sarah works as the Ag Business Coordinator for Gordon Cooper Technology Center in Shawnee. The Weeks family lives on the 153 acre farm they purchased from Sarah's family in 2003, and leases some additional ground to run cattle. Their children, ages six and nine, are continuing the family tradition of showing pigs too.
Maintaining an agricultural operation in addition to two full-time jobs and the demands of raising a family is not easy, but Jeff and Sarah say it is worth it.
"It definitely takes some planning." Sarah said. "We have to figure out a few days in advance who is going to go to the feed store and when. We might have to put hay out, shut a couple gates, and put out some more, because we might not have an opportunity to do it the rest of the week."
Jeff added, "Many nights we pull in to the driveway at 8:30 p.m. after a full day at work and an evening of the kids' sporting events or community obligations. The animals are there standing at the fence waiting to be fed, so the day is not done."
"There are some days that are long, but I wouldn't trade it." He said.
Jeff and Sarah agree that the benefits of raising their children with direct agricultural experiences cannot be measured.
"We've really felt good about the kids getting involved in showing." Jeff said. "We can spend time working in the barn as a family. If the kids aren't doing that, they want to be playing on the phone or on the IPad, and we try to limit that as much as possible."
Sarah agreed. "It teaches them responsibility, and that you can't just quit because you are tired, hungry, or ready to quit. I wouldn't say that they have already accepted that at six and nine, but they are starting to realize that you have to get it done. Even if that means you have to go back out and finish after dark."
Raising the next generation of informed producers and consumers is essential. Jeff and Sarah see great value in the experience their children gain from their involvement with agriculture. Following the livestock showing season each year, the family processes pigs for their personal consumption.
"They take it really well." Sarah said. "We got our pork back this year and it was vacuum sealed so you could see the different cuts. It made a big impact on them."
"It provides the knowledge that most people don't have." Jeff noted. "They are able to make a connection with food at a young age that most people don't get other than the connection they make with the store where they purchase it."
Sarah added, "At this point, the biggest concern I have with consumer knowledge is concerning the use of antibiotics. It would be unfathomable if a child was on the verge of getting pneumonia and we considered not treating them. We can often see illness in a calf or a pig several days in advance before they get to that critical point. I see treating them as something we have to do, because it is the humane thing to do rather than watching it suffer."
"To get attacked about an animal's care is hurtful." Jeff said. "There are times I am tired after a long day at work and would love to sit down for a minute and watch television or rest, but I drive by the pasture and see a cow with droopy ears. I don't have the ability to say, it can wait. I have to do something about it, and I do. It is imperative for me to continue to be able to do that."
Jeff concluded, "I was never one of those who knew from a young age exactly what I wanted to do. But the path that led me to where I am today has made it all possible. All of the traits I have obtained: the ability to communicate with people, character, common sense and work ethic have a direct link to my agricultural experiences. It has served me well, and hopefully it will serve our kids well also."