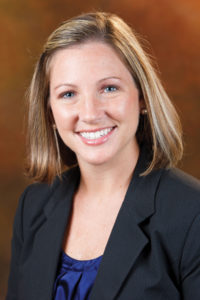 The Oklahoma Farm Bureau Foundation for Agriculture has named Holly Carroll its foundation director. In the position, Carroll will coordinate foundation programs, represent the foundation at statewide events and activities, and build statewide awareness of agriculture and the foundation.
"I'm excited to work with other farmers and ranchers across the state who are passionate about their industry to educate and promote agriculture to all of Oklahoma," Carroll said.
Carroll previously served Oklahoma Farm Bureau as a field representative and the Young Farmers and Ranchers coordinator. She grew up on a beef and tobacco farm in central Kentucky, and earned a degree in agricultural education from Western Kentucky University before moving to Oklahoma.