Kyle and Sheri Glazier were born with agricultural roots spanning many generations. While they each grew up on family farms and continue to work closely with their parents, Kyle and Sheri have embarked on their own farming and ranching journey; and they take great pride in making it their own.
The Glaziers operate a grain and beef cattle farm in northwest Oklahoma raising wheat, alfalfa, soybeans, canola and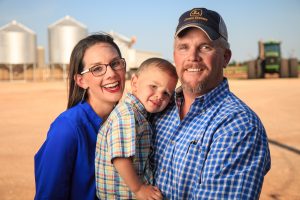 stocker cattle. They have recently added a cow-calf segment to their operation, which continues to grow each year.
Kyle and Sheri recognize the importance of advancing technology in agriculture and have adapted their farming and ranching practices to take advantage of new opportunities.
"Precision agriculture, also known as auto-steer around here, has been a game changer for us." Sheri said. "Growing up, we just tried to drive as straight as we could. Now that we are able to use the technology we are more fuel efficient. We have less turnover of soil. It takes less water to do things. When we spray we are not overlapping. It just makes the overall operation much more efficient." Sheri stated.
Kyle agreed. "A lot of times we are putting down only a few ounces of chemical per acre that is very precisely measured. With the auto-steer and calibration we've got, the waste is next to nothing."
Implementing new technology has proven beneficial for the Glaziers in multiple ways. It reduces labor, improves their soil and conserves precious resources like water and nutrients that are essential for growing crops.
"Right now, it hasn't rained in more than two weeks, so I am trying to control and reduce the spread of weeds and conserve the moisture in the soil for next year's crop." Kyle said as he sprayed a field that will be planted this fall.
Like many Oklahoma farmers and ranchers, environmental stewardship and continuing a legacy are top-of-mind for the Glaziers.
"Generation to generation, we've seen the process of each family member taking care of the land." Sheri said. "I see this as an opportunity to continue that legacy. If we are able to take care of the land, it gives back to us as well. It only makes sense to be good stewards of our resources."
In addition to farming and raising beef cattle, Kyle and Sheri hold off-the-farm jobs that they believe add unique benefits to their agricultural enterprise.
"Kyle works as a crop insurance adjuster, so he gets to look at a lot of wheat. His job has really helped him as a producer because he gets to see different farming practices and apply those to see what works best for us." Sheri said.
She added, "For me, as a dietitian working off the farm, I get to wear many hats. Working in rural hospitals I have consultations with people I know or can empathize with. I am able to make recommendations to help them improve their lifestyle."
"I also use my knowledge as a dietitian to serve my family. I know that when I prepare a meal for my family I can provide lean beef and whole grains that potentially came from our farm. I can pair them with fruits and vegetables and I know that I can fuel my family appropriately so that they can continue to optimally provide for our family." Sheri said.
"As a working mom, dietitian, and beef and grain producer, I can confidently recommend the foods we produce. It is especially fulfilling to know that we are where it all begins." She added.
As their family grows, the Glaziers see agriculture and raising their children on the farm as an integral part of their lifestyle and their legacy.
"The legacy we hope to leave for our children is for them to see us work hard. We want them to know the value of a dollar. We want them to know how to balance life, work and play. And at the end of the day, I want them to know how to be humble." She said.
The days can be long, but the Glaziers say there is nowhere they would rather begin and end each day than on the farm.
"At the end of the day, we come home, put our work clothes on, and off we go. We enjoy our off-site jobs, but farming is where our heart is. The farming is what we are most fulfilled with at the end of the day." Sheri concluded.