Agricultural education has never been more important. And now, thanks to a trio of Oklahoma institutions, it has never been more mobile either.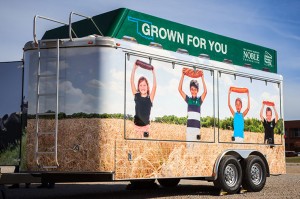 This winter, The Samuel Roberts Noble Foundation's youth education and outreach program – Noble Academy, Oklahoma Farm Bureau, and the Oklahoma Farming and Ranching Foundation launched a new mobile agricultural education trailer called the Grown For You mobile classroom to provide students a fun, fast and factual look at Oklahoma agriculture.
Grown For You provides an interactive look into agriculture and highlights the commodity crops grown in Oklahoma.
"This trailer was designed to illustrate the importance of agriculture to society and our state's economy," said Frank Hardin, Noble Academy education outreach manager. "Our goal is to share the importance of agriculture and show the connection between agriculture and our food supply. It is important that our audiences understand that Oklahoma farmers and ranchers work to feed us all. The product of their labor is grown for all of us."
The Grown For You mobile classroom will deliver its messages to audiences at elementary and intermediate schools, county fairs, and other community and special events.
The Grown For You trailer uses videos, presentations and interactive games presented on four 46-inch outdoor TVs. Short videos focus on various commodity crops grown in Oklahoma, while demonstrations bring a hands-on element to audiences. A packed picnic basket teaches students about the obvious – and not so obvious – agricultural origins of items typically found on a picnic, from the beef in a hamburger to the ink on a bag of chips. In the future, a working, hand-operated cotton gin will teach students how cotton is processed to become cloth. My American Farm educational video games, provided by American Farm Bureau and projected on the trailer's TVs, offer audiences a chance to understand and learn more about agriculture.
"Today's youth are the future – not just for agriculture, but they are future consumers, legislators and professionals," said Holly Carroll, Oklahoma Farm Bureau vice president of field services and leadership development. "Educating the youth at an early age about the importance of agriculture is vital to future sustainability."
The Grown For You mobile classroom will be ready to visit schools and communities after Jan. 1, 2014. The mobile classroom will be scheduled and operated through Oklahoma Farm Bureau, and updated and supported by the Noble Foundation. Anyone interested in bringing the trailer to their area can call now to get on the schedule. For more information or to schedule a visit, contact Carroll at 405.523.2307.